My PhD / SJD at the Aix en Provence Law School //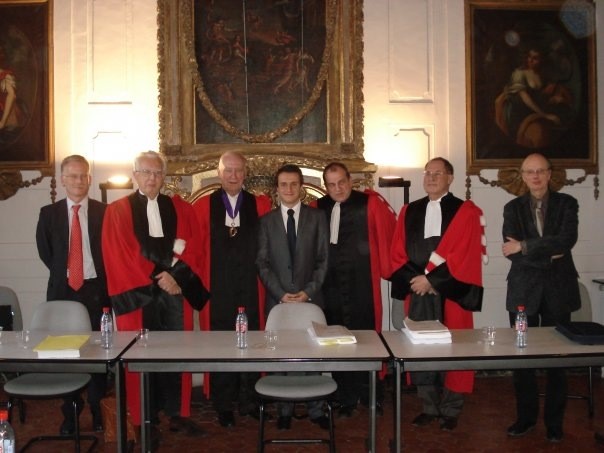 Photo taken after the public defense of my doctoral thesis before a Jury of six members, January 30, 2009, at the Pavilion of Lanfant, Faculty of law of Aix en Provence.
Summa Cum Laude
Very honorable mention with the Jury's unanimous congratulations,
publication in the State permission and permission to compete at a price.
Prize for the best thesis in European law from the Faculty of law in Aix en Provence, Université Paul Cézanne
The result of my work is published by editions Bruylant.
ÉSSAI SUR LA RATIONALITÉ DU DROIT COMMUNAUTAIRE DES CONCENTRATIONS Georges VALLINDAS
Cette Thèse de doctorat étudie le droit des concentrations de l'Union européenne, un ensemble de règles dont la double nature juridique et économique rend la cohérence difficile à saisir.

Ces règles juridiques construites et interprétées autour d'objectifs et de théories économiques connaissent une évolution constante et rapide, notamment dans l'articulation adoptée entre deux sciences qui sont appelées à être complémentaires.
Le rôle de l'analyse économique en tant qu'instrument de la règle de droit et le rôle de la règle juridique en tant qu'instrument économique sont analysés en faisant ressortir la logique et la cohérence de l'équilibre établi ainsi que les défis à relever au sein de la sphère juridique et économique de l'Union européenne.
Enfin, le dialogue entre les juges de l'Union, la Commission et la doctrine économique et juridique est étudié dans l'optique de déterminer la place de la science économique dans la définition des règles du droit des concentrations de l'UE et de leur interprétation, essayant ainsi de mieux saisir leur rationalité complexe.
THE RATIONALITY OF EU MERGER CONTROL - Georges VALLINDAS
This PhD studies EU merger control as a set of rules whose dual legal and economic nature makes their consistency difficult to grasp.
These legal rules, built and interpreted in the light of economic theories and goals, facing constant and rapid evolution, notably since these changes result from the dynamic relationship between two sciences that are meant to be complementary.
The role of economic analysis as an instrument of the rule of law and the role of the rule of law as an economic instrument are here examined, whilst trying to underline the rationality of the balance achieved, along with the challenges that have yet to be faced in the European Union's legal and economic sphere.

The discussion amongst EU Judges, the European Commission, and economic and legal literature is studied with a view to define the place of economics in EU merger law, thus trying to improve our understanding of their complex rationality.
ENSAYO SOBRE LA LEGISLACIÓN COMUNITARIA DE LAS CONCENTRACIONES - Georges VALLINDAS RACIONALIDAD
Esta tesis de doctorado estudia el Derecho comunitario de las concentraciones como un conjunto de normas jurídicas cuya naturaleza doble, jurídica y económica, hace que la coherencia sea difícil cogerla.

Estas reglas jurídicas construidas e interpretadas con respecto a objetivos y de teorías económicos conocen una evolución constante y rápida particularmente en la articulación adoptada entre dos ciencias que necesitan ser complementarios.

El papel del análisis económico como instrumento de la regla del derecho y el papel de la regla jurídica como instrumento económico se analizan intentando destacar la racionalidad del equilibrio establecido así como los desafíos que están por confrontar en el seno de la esfera jurídica y económica de la Unión europea.

El diálogo entre los jueces, la Comisión y la doctrina económica y jurídica se estudia en un esfuerzo por determinar el papel de la economía en la definición de las normas de derecho comunitario de las concentraciones y su interpretación, y tratando de comprender mejor su compleja racionalidad.